3vs3 Shrub League on the [[[Mad.4.wolF]]] server 91.205.193.104:27960
modus and settings: each team plays every team two times (home and away). 2 stopwatch rounds per map. the home team chooses the first map to play and starts setting the time for the 1st round. the away team chooses the 2nd map for sw-rounds 3 & 4. winning team gets 3 points, a draw gives 1 point for each team.
shrubmod, objective mode, limited lives (11/9 attacking/defending team, 9/9 on wizernes), 10 minute timelimit, heavy weapons gonna be disabled, except the sniper. mines are disabled. no shove, only drag.
needs one teamcaptain for each team, teammates will be voted one by one.
possible mappool: the default maps from the goty mappack: beach, village, sub, castle, keep, chateau, base, assault, ice
+ some custom maps: te_escape2, password2, mml_church_v1, wizernes, communique, te_frostbite, te_pacific, axis complex
matchtimes: usually sundays from 21:00 cet (2pm cst, 3pm est, 8pm uk)
signed players:
Group A: marny, prowler, illicit.ro, joep, nana, pixi <- the teamcaptains
Group B: j0v4, whitewolf, fox, angels, erehart, stoner
Group C: assassin, nat, wildy, syb, etwas, nihilist
substitute players: valteh, villain, s.shooter, decka, rekernator, scumbag, sonar, lukino, jay k, insu, fox.bnj, boner, xinudio
Team 1: prowler, whitewolf, etwas (No Half Measures - NHM)
Team 2: marny, fox, syb (Team Naked - naked)
Team 3: illicit.ro, j0v4, assa (Amazing Super Soldiers - A.S.S.)
Team 4: joep, angels, wildy (Blackstars - BS)
Team 5: nana, stoner, nat (Escargot - ESC)
Team 6: pixi, erehart, nihilist (Get Some - GS)
played and upcomming matches:
matchday 1:
15.04. 21:30 A.S.S. vs. naked 0:4
16.04. 22:00 BS vs. ESC 4:0
21.05. 21:30 GS vs. NHM 3:1
matchday 2:
17.04. 22:00 A.S.S. vs. NHM 1:3
14.05. 22:00 ESC vs. GS 0:4
09.07. 22:30 BS vs. naked 0:4
matchday 3:
29.06. 22:30 GS vs. BS 3:1
02.07. 22:30 naked vs. NHM 4:0
07.09. 22:00 ESC vs. A.S.S. 3:1
matchday 4:
28.04. 22:30 NHM vs. BS 4:0
20.05. 23:00 naked vs. ESC 3:1
04.06. 21:30 A.S.S. vs. GS 1:3
matchday 5 (final):
26.04. 22:00 BS vs. A.S.S. 2:2
28.05. 21:30 GS vs. naked 0:4
10.06. 22:30 NHM vs. ESC 2:2
there wasnt much new feedback, so i started creating the groups by best knowledge.
the teamcaptains from Group A should vote their teammates from Group B and C. last captain who got his teammate from Group B, may vote for the first from Group C.
message me here or on discord
https://discord.gg/JXQUFEX
(etwas) if someone is still interested. or join our forum at
http://s15.zetaboards.com/mad4fun
6 teams are build, nomore new teams this season. but single players might sign-up as a replacement/substitute for others.
end of 1st tourney, final standings: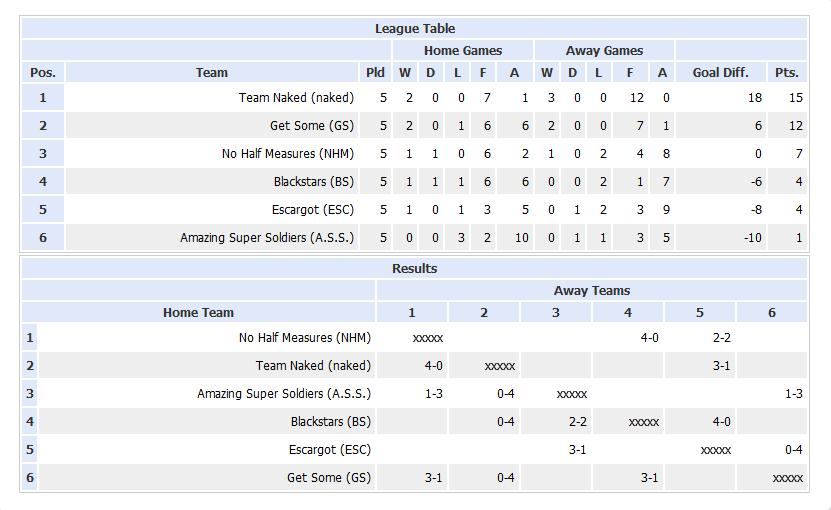 Last edited by
[[[MAD.etwas]]]
on Sat Oct 14, 2017 9:56 am, edited 99 times in total.