Hi guys, I was banned from your PR server early today probally at 1:00 PM EST. I got banned for hacking
.
Any way, I have deleted them and learned my lesson I only downloaded them to see what they where like because I saw all the other PR players with like 1000 points etc...
Not that this means much but I will never do it again. I can't find my CD key hash I even downloaded that program but it says
Cannot read Battlefield 2 CD key!
And dosent show my HASH.
My name is gT.GoldMan
Your server is the only one I can play on with out lagging, I don't expect you to forgive me because what I got was just but maybe, just maybe you can find it in your hearts to unban me.
If need be maybe I can buy a slot? Please?
Thanks.
Not very good at appologies but hey, atleast I gave it a shot.
EDIT:
PR= Project Reality a Mod for BF2.
---
Posts: 1654
Joined: Wed Feb 23, 2005 5:19 pm
Location: A damn yankee in N. Carolina
I am not the admin that banned you. Although a few of us were on when it happened. The admins will discuss the unban but I wouldn't hold my breath if I were you.
Here is the PB screenshot.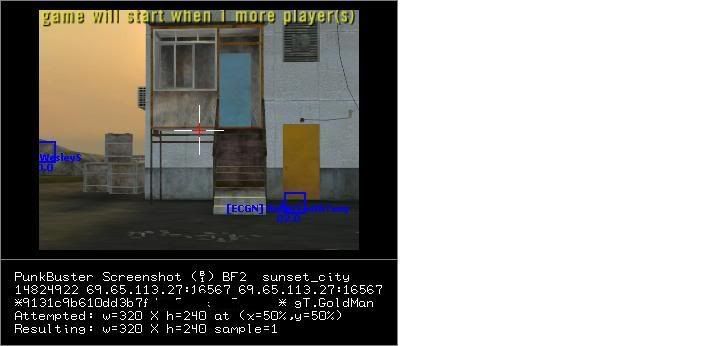 ---
Thanks. I mean I got what I deserved its like letting Saddam walk off with crimes against humanity but obviously this isn't in real life.

I can't expect you to have any pity on me, but seriously your server was the only reason I played PR. If theres any thing I can do to clear this up off quiting id be happy to help.
---
Chacal
[SIZE="1"][color="LightBlue"]
Reporter:
"Mr Gandhi, what do you think of western civilization?"
Gandhi:
"I think it would be a great idea."[/color][/SIZE]
---
---
Posts: 2308
Joined: Tue Dec 24, 2002 9:44 am
Location: Bristol, Virginia
Originally posted by Goldman

They banned me from there for not supporting the war on terror.

Was that the post where a guy was calling me a hacker? Like about 1 month ago?
Yes that's the one, were you cheating during that game too?
"Aim small, miss small" The Patriot
"Slow is smooth, smooth is fast" Bob Lee Swagger
"There is but one path, we kill them all" Spartacus:Blood and Sand
---
---
I see no reason to allow you to play on ECGN servers. Thanks for coming in a civilized manner to discuss the issue, but there is no reason for hacking like that. Why would you hack before the round even started?
By hacking you could have forced a handful of players to stop playing the mod altogether, hopefully in future games you may take to the challenge of actually playing the game the way it was meant to be played.
[ECGN] WesleyS
BF2 Smacker
Originally posted by BTT

My specs are a piece of shit dell running windows XP.
---
Who is online
Users browsing this forum: No registered users and 2 guests